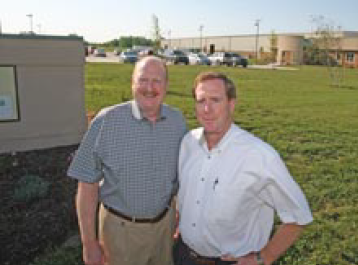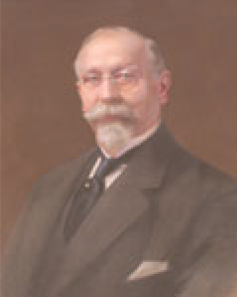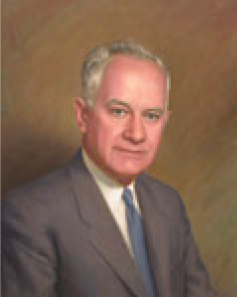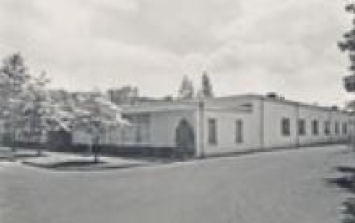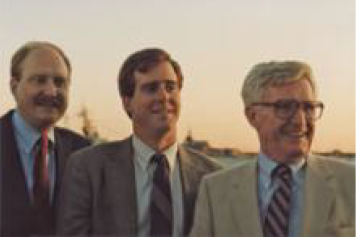 Looking Back
It's no surprise that Bob Galletly and his brother Peter have a love of history. The scientific discoveries and milestones that took place alongside their 140-year old business, Tiedemann-Bevs Industries, tells a story of an American company's evolution through changing times.
Both auspicious and inspiring, the events include two World Wars and 28 presidents, inventions that span from the Model-T automobile to hybrid cars, the Kitty Hawk to the Concorde and the Space Shuttle, telegraph machines and typewriters to laptop computers, talking motion pictures to iPods, Polaroids to digital photography, the transistor radio to the Internet and Alexander Graham Bell's telephone to the wireless BlackBerry.
Amid the precedent-setting events and history-making innovations that shaped America is the story of Theo Tiedemann & Sons, a five-generation business that has successfully remained in operations for an uninterrupted 140 years.
The roots of Tiedemann, now located in Richmond, Indiana, date back to the late 1860s, when a young Theodore Tiedemann  immigrated to the United States from Germany. Eager to latch on to the opportunities offered in America, the entrepreneurial side of Tiedemann quickly took hold. He created several businesses, among them textile products and fabrics designed for the interiors and exteriors for caskets. That particular component of Tiedemann's business ventures continues to this day through Robert and Peter Galletly.In 1901, the elder Tiedemann was joined by his son, Henry. Together, the two men established themselves as corporate trailblazers of their time.
The Galletly name entered into the picture in 1920, when Bob and Pete's grandfather William (Bill) Galletly signed on with Theo Tiedemann & Sons as a salesman. Like Theodore Tiedemann before him, Bill was an immigrant coming from Scotland. His father served as an iron worker on the Statue of Liberty, where his tools still remain as part of the Statue of Liberty Museum.
With a tireless work ethic and endless perseverance, Bill ultimately became president of Tiedemann in 1951. He was joined in his endeavor by his young and energetic son, Robert (Bob) Galletly, whose own leadership abilities were demonstrated early in life as a pilot of a B24 bomber in World War II. Later, he became manager of Tiedemann's marketing and sales departments and eventually president and owner.
Bob Galletly, Jr. recalls a time in 1964 when their father was told by his own father of his impending retirement and that the shareholders of the company had elected him as the new president. "Dad enthusiastically took control, and the company began a new direction and growth in the business," he says.
One of the first tasks that Bob, Sr. took on was to move the business from its New York City roots to the Meadowlands area of Carlstadt, New Jersey. The move created easier access to suppliers and customers, resulting in significant overall growth for the company. The business remained in Carlstadt until 1978, at which time Bob, Sr. moved the operations to a larger facility in Mahwah, New Jersey.
Another critical assignment Galletly bestowed upon himself was to acquire all the outstanding shares of Tiedemann stock from small and medium-sized shareholders. After a painstaking and tedious process of approaching individuals one by one, he eventually succeeded, thus enabling the Galletly family to finally own 100% of Tiedemann & Sons.
The third generation of Galletlys appeared on the scene in 1974, when Bob, Jr. came on board. Later, in 1979, he was followed by his brother, Peter.In June 1988, Bob, Sr. officially retired from Tiedemann & Sons. His mark on the company, however, would continue to endure. Today, his sons credit their father's ingenuity and business acumen as instrumental in creating a highly successfully and fiscally sound organization. Robert Galletly, Sr. passed away in September 2007.
In 1999, Bob, Pete and their sister, Anne, acquired the assets and business of Bev's Threads, Etc. By 2004, the brothers and Anne had secured 100% of the Tiedemann operations.In early 2007, with three separate operations located between New Jersey and Indiana, the brothers decided to permanently move and consolidate Tiedemann's two locations to Richmond, Indiana. There, they built a new 65,000-squarefoot building that opened in July 2008."Closing our New Jersey headquarters was one of the toughest decisions we have ever faced," says Pete Galletly, co-owner of Tiedemann & Sons and Bev's Threads. "We had developed a family-like relationship with our workforce there, but it simply made good business sense to put all of our manufacturing and distribution under one roof."
Joining Tiedemann at the new facility is Bev's Threads, a company that the Galletlys acquired in March 1999. The following year they purchased the casket textile division of Beacon Looms, Inc. The acquisition of the two companies, both of which were competitors in the manufacturing of textile component parts and distribution of fabric for the casket industry, provided Tiedemann with growth opportunities and a new customer base.
Looking Ahead
Today, there is a keen awareness at Tiedemann-Bevs Industries that the company's historic past serves as a springboard for its future. The unparalleled service and commitment to quality that helped define and build the business in the early years underscores the company's mission today. The Galletlys themselves have created their own internal culture of continuous customer service improvement, taking comments and suggestions from customers to heart as they work to develop new products and refine their services.
"It's always been extremely important to us to support a strong domestic supply chain while developing relationships globally where necessary. We firmly believe it's in our customers' best interests to have options. They deserve the best quality, service, and price possible," says Bob Galletly.
"Our employees, too, are an integral part of our success and longevity," adds Pete. "Their talent and work ethic are outstanding."
The new operations of Tiedemann-Bevs Industries also will lend itself to that success. Encompassing nine acres of land, the Richmond facility was constructed as a "light" green building, one that emphasizes resourceefficient lighting and integrated design components.
With the past as prologue, the Galletly brothers say they are optimistic about what lies ahead for their future and the future of Tiedemann-Bevs Industries. Among their goals, they intend to explore new opportunities, and improve upon what it is they do best in the textile and fabrics component of the casket industry: providing personalized service to those they serve. What will remain constant, however, is the business philosophy passed on over the years by their father, Bob Sr.
"Our father trained us well," remembers Bob, Jr. "He was the kind of father who never made you feel bad for making a mistake, but rather used it as a lesson to help us learn to be better. He was the consummate builder of professional standards. He set the bar very high, and along the way he taught us that no matter what you do, loyalty and integrity really are the common threads to success in business and in life."